Hooded Fang are a young band, concerning the bands average age. Starting in 2007 in Toronto, the got more and more attention to their style of music. That interview has been recorded 2 years ago after their first release of…
Many different instruments to become a band, so you could put it cynically. Freelance Whales are therefore a very multi-faceted, and above all  a great live success. Have fun!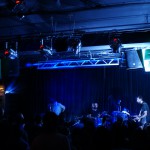 Two musicians which know how to run that business and of course giving moments of pleasure. The only thing what they had fight was the coldness in Toronto. Enjoy!